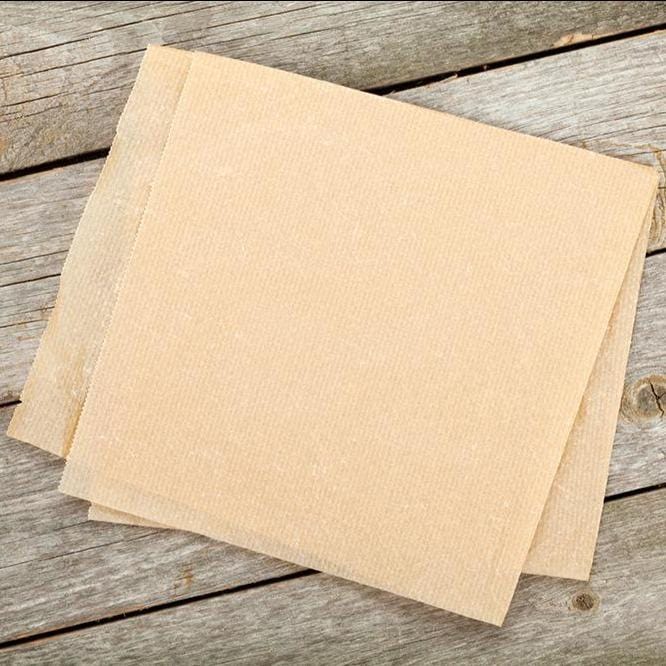 Greaseproof Paper | Brown
Recyclable and Commercially Compostable
Three sizes; 225x350mm, 350x450mm, 450x700mm
500-2000 sheets per case
Recyclable and Commercially Compostable
Three sizes; 225x350mm, 350x450mm, 450x700mm
500-2000 sheets per case
This unbleached, brown greaseproof paper is ideal for baking, wrapping, and serving your goodies! Three sizes available:

225x350mm (2,000 Sheets per pack)
350x450mm (1,000 Sheets per pack)
450x700mm (500 Sheets per pack)
Fully compostable. They can also be recycled through existing paper waste streams. 
Unsure how to dispose of your Compostable Packaging, check out our information page by clicking here!
FREE UK* next day delivery. Click here for more information on deliveries.
read more
Recyclable and Commercially Compostable
Three sizes; 225x350mm, 350x450mm, 450x700mm
500-2000 sheets per case

This unbleached, brown greaseproof paper is ideal for baking, wrapping, and serving your goodies! Three sizes available:


225x350mm (2,000 Sheets per pack)
350x450mm (1,000 Sheets per pack)
450x700mm (500 Sheets per pack)

Fully compostable. They can also be recycled through existing paper waste streams. 

Unsure how to dispose of your Compostable Packaging, check out our information page by clicking here!

FREE UK* next day delivery. Click here for more information on deliveries.

Ratings will go here from reviews.io