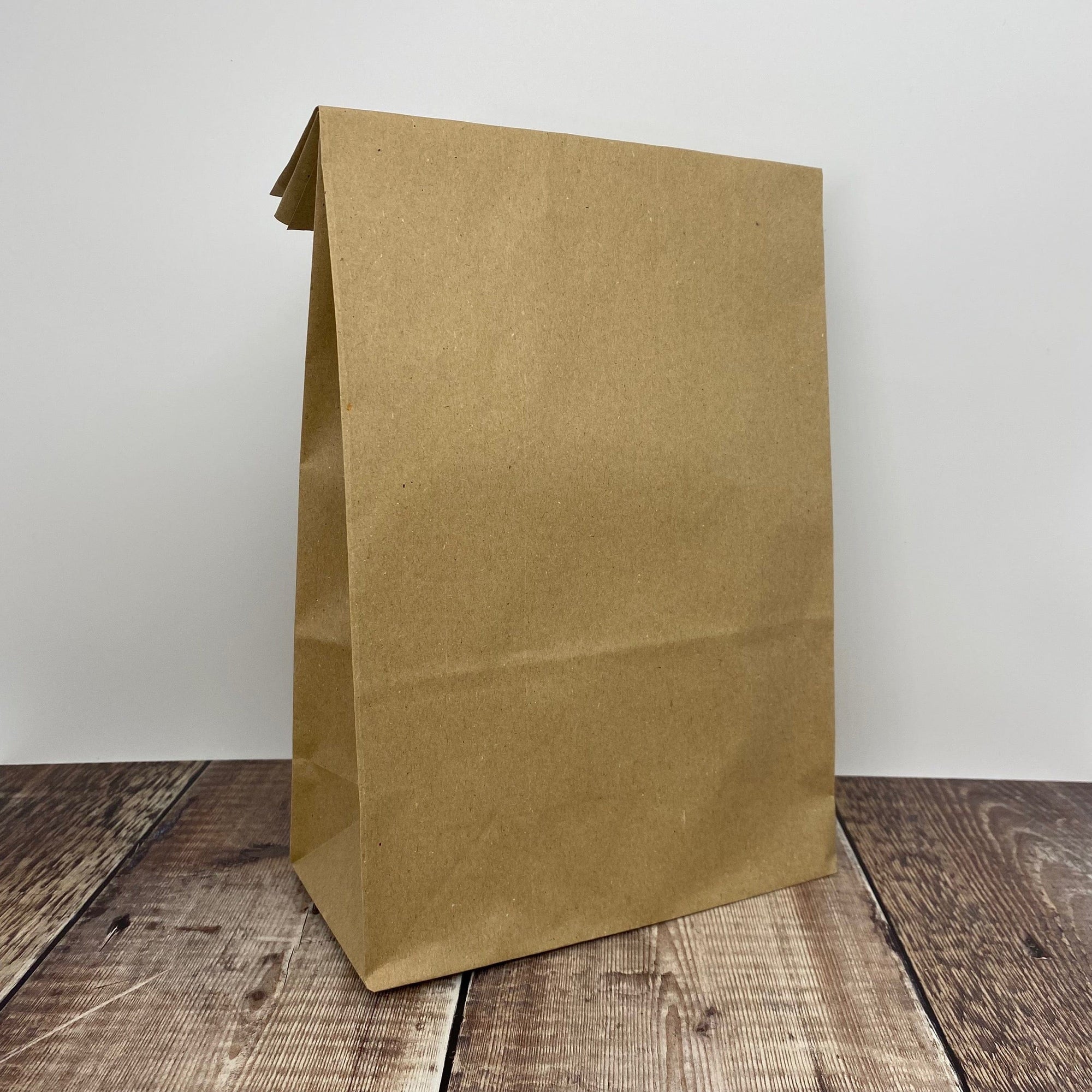 Recyclable and Compostable Brown Block Bottom Paper Bags for Flour
Recyclable and Commercially Compostable
Six sizes; 3lb, 7lb, 10lb, 14lb, 21lb, 28lb
125-250 bags per case
Recyclable and Commercially Compostable
Six sizes; 3lb, 7lb, 10lb, 14lb, 21lb, 28lb
125-250 bags per case
These paper bags are designed for flour but can be used for other purposes such as coffee, tea leaves, grains, etc...

These Block Bottom bags are the most commonly used for packing flour. If you would like a thicker bag, we would recommend the Rose Bottom Flour Bags.
Please see below for the sizes and colour of paper:
Brown Kraft Paper Block Bottom:
3lb / 1.3kg (250 per Case) - 115x70x295mm
7lb / 3.2kg (250 per Case) - 175x115x340mm
10lb / 4.5kg (250 per Case) and (125 per Case) - 215x100x385mm
14lb / 6.4kg (125 per Case) - 220x105x480mm
21lb / 9.5kg (125 per Case) - 260x390x415mm
28lb / 12.7kg (125 per Case) - 245x135x545mm
Prices are per pack
Unsure how to dispose of your Compostable Packaging, check out our information page by clicking here!

FREE UK* next day delivery. Click here for more information on deliveries.
read more
Recyclable and Commercially Compostable
Six sizes; 3lb, 7lb, 10lb, 14lb, 21lb, 28lb
125-250 bags per case

These paper bags are designed for flour but can be used for other purposes such as coffee, tea leaves, grains, etc...


These Block Bottom bags are the most commonly used for packing flour. If you would like a thicker bag, we would recommend the Rose Bottom Flour Bags.

Please see below for the sizes and colour of paper:

Brown Kraft Paper Block Bottom:
3lb / 1.3kg (250 per Case) - 115x70x295mm
7lb / 3.2kg (250 per Case) - 175x115x340mm
10lb / 4.5kg (250 per Case) and (125 per Case) - 215x100x385mm
14lb / 6.4kg (125 per Case) - 220x105x480mm
21lb / 9.5kg (125 per Case) - 260x390x415mm
28lb / 12.7kg (125 per Case) - 245x135x545mm

Prices are per pack

Unsure how to dispose of your Compostable Packaging, check out our information page by clicking here!


FREE UK* next day delivery. Click here for more information on deliveries.

Ratings will go here from reviews.io