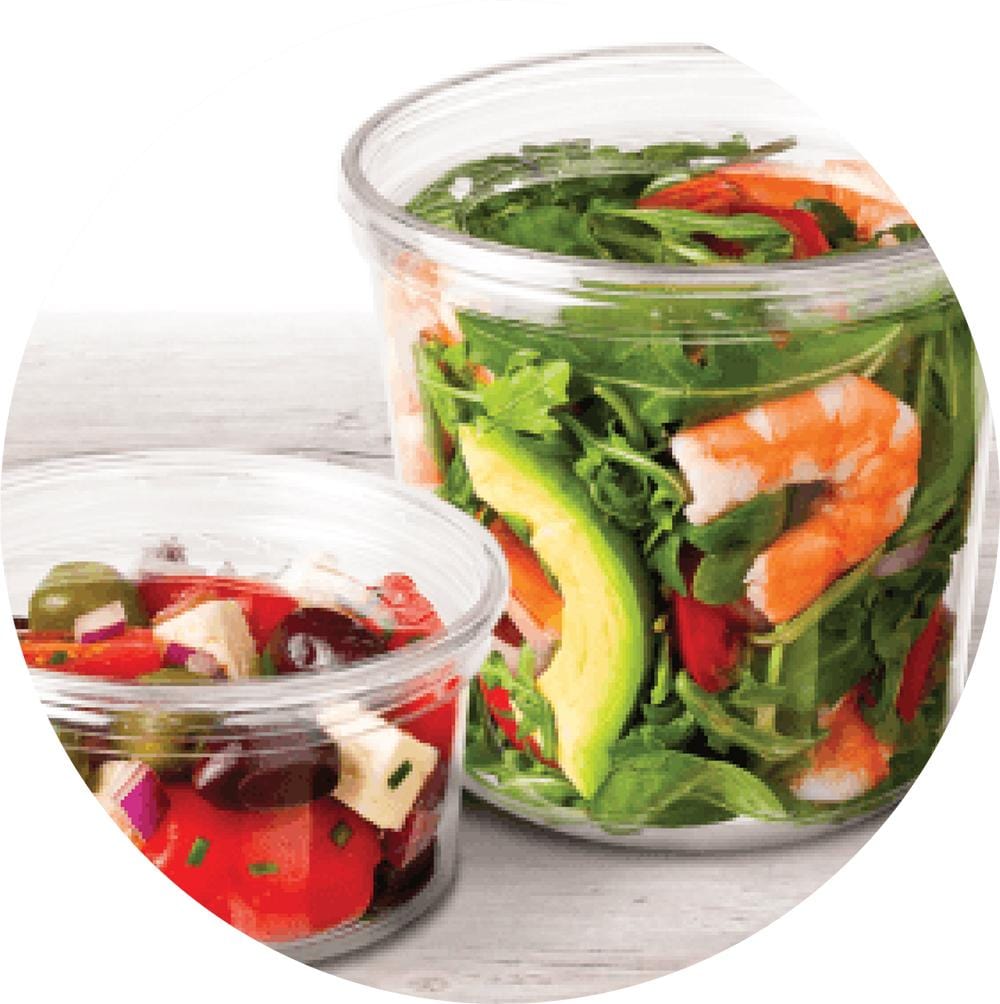 Compostable PLA Deli Pots
£85.51 £71.26 ex. VAT
£104.69
Commercially Compostable
Five sizes; 8oz, 12oz, 16oz, 24oz, 32oz
500 pots per case
Commercially Compostable
Five sizes; 8oz, 12oz, 16oz, 24oz, 32oz
500 pots per case
These clear deli pots are absolutely perfect for generously dressed salads, cold snacks, olives, fruit, dips and sauce. A truly versatile tool to have in your food-service toolbox.


Made from compostable PLA, a clear PLA lid is also available. Lids sold separately.
500 per case.
Seal your clear pot with a compostable NaturePac Label and make sure your customers know the packaging is 100% compostable! Click here for more information.
Measurements:
8oz: 45mm Tall x 118mm Diameter
12oz: 55mm Tall x 118mm Diameter
16oz: 75mm Tall x 118mm Diameter
24oz: 110mm Tall x 118mm Diameter
32oz: 140mm Tall x 118mm Diameter

Unsure how to dispose of your Compostable Packaging, check out our information page by clicking here!
FREE UK* next day delivery. Click here for more information on deliveries.
read more
Commercially Compostable
Five sizes; 8oz, 12oz, 16oz, 24oz, 32oz
500 pots per case

These clear deli pots are absolutely perfect for generously dressed salads, cold snacks, olives, fruit, dips and sauce. A truly versatile tool to have in your food-service toolbox.



Made from compostable PLA, a clear PLA lid is also available. Lids sold separately.

500 per case.

Seal your clear pot with a compostable NaturePac Label and make sure your customers know the packaging is 100% compostable! Click here for more information.

Measurements:

8oz: 45mm Tall x 118mm Diameter
12oz: 55mm Tall x 118mm Diameter
16oz: 75mm Tall x 118mm Diameter
24oz: 110mm Tall x 118mm Diameter
32oz: 140mm Tall x 118mm Diameter


Unsure how to dispose of your Compostable Packaging, check out our information page by clicking here!

FREE UK* next day delivery. Click here for more information on deliveries.

Ratings will go here from reviews.io