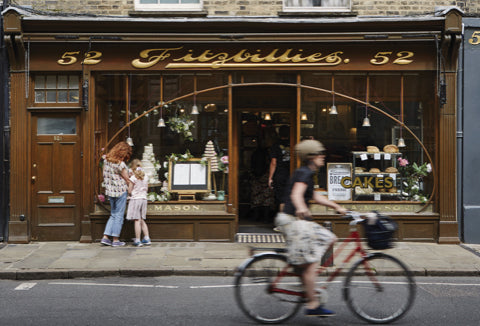 Interview with Alison Wright
Fitzbillies, 6th February 2023
Introduction
Fitzbillies is a Cambridge icon. It originally opened on the 2nd October 1920 - just in time for the start of term -  and it rapidly became the go-to spot for delicious cakes and fancies (my parents-in-law, who met as undergraduates in the early 50's, had a first date over a Fitzbillie's cake). But by the end of the first decade of the 21st century Fitzbillies had gone into liquidation.
At this point Alison Wright, who had grown up in Cambridge and was now working in London saw a Tweet, written by Stephen Fry, lamenting the closure of Fitzbillies. This was enough to spur Alison, a keen amateur baker, into action and to develop a plan to rescue an institution that had been an essential part of her life. In fact her 21st birthday cake had been made at Fitzbillies (a croquembouche since you ask) by the current Head Baker.
The plan was successful and so in 2011 Fitzbillies opened again under the ownership of Alison and her husband Tim. Their idea was to retain and celebrate Fitzbillies' rich history but make the product offering more relevant to the 21st century. So the famous Chelsea buns, fancy cakes and sausage rolls would stay but a new artisan café would be added (one of the first in Cambridge), in addition to an expanded range of bread and food that would appeal to a contemporary market.
The new business has thrived and recently celebrated its 100th anniversary - marked by the publication of a book celebrating its history and its recipes.
The Present Day
We met Alison at the beginning of February 2023 to talk about her experiences with Fitzbillies (so far), her perspective on the current environment, and her/Fitzbillies' attitude towards sustainability.
Like all hospitality businesses Fitzbillies has been hit by dramatically increasing costs of raw materials (eg sugar doubled in price overnight) , energy and difficulties in recruiting staff. However, Alison recognises that Fitzbillies is lucky to be located in one of England's most thriving and prosperous cities, so whilst the supply side of the business has been challenging, customer demand has held up well. Weekends and term time are busy, although like any hospitality business there are some slow days when there just aren't that many people around.
Sustainability
Unsurprisingly for a business in affluent Cambridge, Fitzbillies and its staff care about sustainability and want to do the right thing. However, running this business is busy and there are multiple plates to keep spinning at any one time, so being sustainable needs to be clear, straightforward and not that much more expensive than the unthinking non-sustainable approach.
Alison remarked that there are aspects of sustainability that have not been easy to understand; for instance Fitzbillies had debated what is the difference between recyclable and compostable and bio-degradable? Isn't composting just a form of recycling? And it had taken some time to recognise that using compostable disposable cups wasn't actually a great idea if it wasn't easy for customers to dispose of empty cups in an on-street food waste bin. It isn't.
We wondered if customers expressed much interest in Fitzbillies approach to sustainability. Alison's response was a little surprising, but insightful: for retail customers, there is minimal questioning about the businesses' attitude towards sustainability, unless Fitzbillies does something that automatically raises a red flag, such as, many years ago,  using a plastic clam shell pack to serve a drippy syrupy Chelsea Bun.
It was a practical solution to a sticky problem, but one which forced customers to question whether Fitzbillies really was the thoughtful, sustainable company they assumed it to be.  Alison believes that her customers assume that Fitzbillies is doing the right thing and so it is only when they inadvertently do something that challenges this assumption that questions are asked.
However for wholesale customers, for instance colleges of the university, and local businesses, the procurement process takes sustainability seriously and so Fitzbillies' environmental credentials are an important part of new business pitches.
Conclusions
Naturepac is proud to supply Fitzbillies with recyclable cups, paper carrier bags, cake boxes, etc... We love to see Fitzbillies striking branding being carried around Cambridge.
We are happy to know that these cups will be properly recycled when disposed of in one of the many on-street recycling bins. We are continually looking at how we can make life more straightforward for our customers, for instance by ensuring our cups are correctly, and by providing easily accessible advice and support on sustainable packing choices.
And as the carbon agenda becomes even more important for our customers, and for their customers, we will continue our efforts to become a zero carbon business supplying zero carbon products.