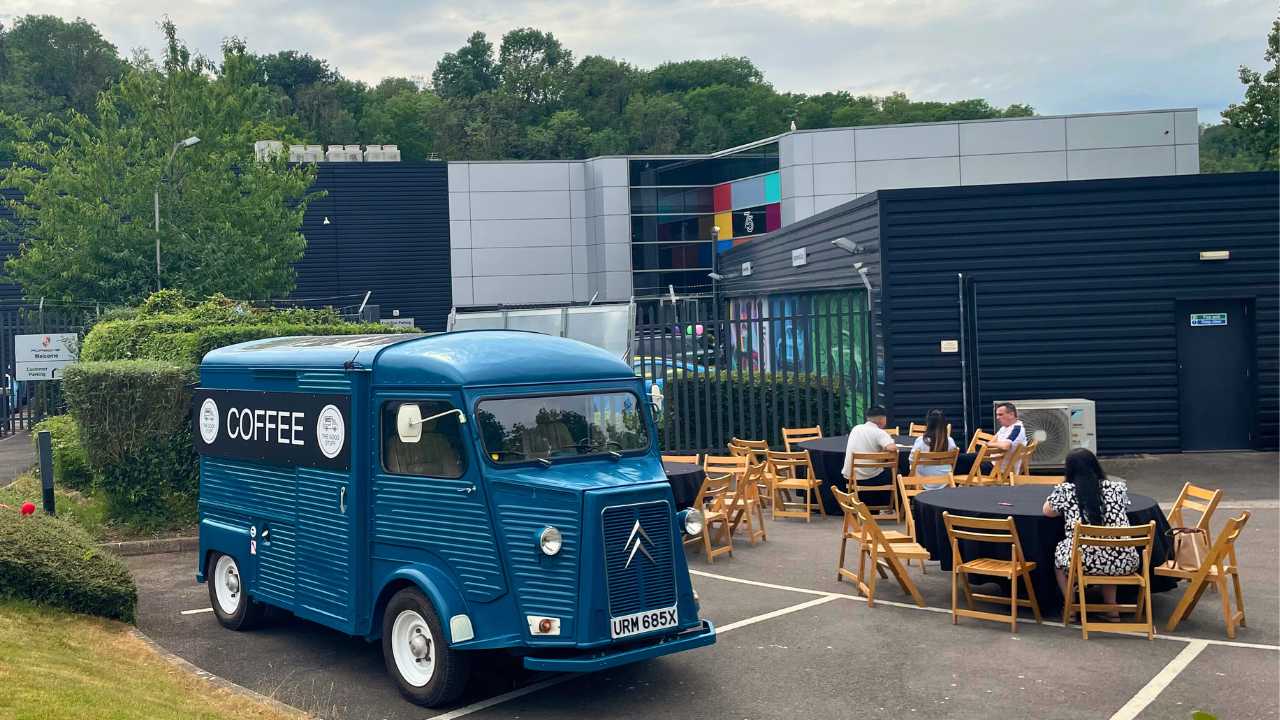 The Good Stuff is a speciality coffee business operating from a vintage Citroen van in Caldicot, Monmouthshire. It was launched in April 2023 by Alex Thomas.
Alex has worked in the world of coffee and coffee shops for most of his relatively brief career. Starting in mainstream outlets like Starbucks and Costa he always wanted to do his own thing, and that thing was always a van serving proper delicious coffee.
Starting Up
Talking to Alex it was fascinating to hear how important social media has been in helping him turn his dreams into reality. YouTube was a great source of videos where he could see what was involved in converting a van into something from which he could serve coffee; and Facebook provided a group for mobile caterers, active and aspirant, to meet and share experiences and advice - more on this later.
So when Alex found a classic Citroen HY van that was available to restore and convert there was only one thing to do. The conversion was completed by Alex, his father and lots of great engineers; as you can see from the picture looks fantastic! Sustainability was an integral part of the plan from the outset and solar panels were installed on the van so that, in terms of electricity, it is completely self-sufficient.
Alex also wanted to make sure that the packaging he would use would be sustainable. This is where the mobile catering Facebook group came in and was a great source of information and advice. Amongst other things, the group told Alex told about NaturePac. He went to the NaturePac website and requested free samples. These arrived clearly labelled so it was easy to work out what he ultimately needed to order.
The Location
In some ways choosing the location was easy. Caldicot is a speciality coffee shop desert and so it seemed obvious that this would be a good place to start. At this point, Alex suddenly realised that although he knew where he wanted to launch he hadn't yet organised a pitch. He had a perfect coffee van and all the kit to get going, but nowhere was he confirmed where he could park and meet customers. Luckily it only took a week to find a pitch by the entrance of the local industrial estate and opposite an office block. From the first week of the launch, with limited competition, business has been good. In fact, customers have been walking from the centre of town in order to buy a proper coffee.
In addition to his pitch in Caldicot The Good Stuff has been in high demand at various events in South Wales such as fetes and festivals, even Porsche Wales' 75th anniversary. So the weekends are as busy as the rest of the week.
Sustainability
As we learned earlier sustainability is at the heart of what the Good Stuff does. Installing solar panels on the van is a real demonstration of that commitment and exactly the kind of approach that NaturePac supports. Alex also explained how important it is for businesses like his to adopt sustainable packaging if they want to take part in many of the festivals and events that are now so popular. Event organisers usually make it a condition of entry that food/coffee vans are using only sustainable packaging, something that Alex was not aware of but, thanks to his initial choice of NaturePac, not an issue that would hamper his plans.
It was also interesting to hear that Alex's customers are interested in the packaging and whether it is sustainable, with several of them asking what the Good Stuff uses. NaturePac has recognised the importance of communicating this information with end users and is developing materials our customers can use to communicate a sometimes less than obvious explanation about sustainability simply and effectively.
Key lessons
The big bit of learning that Alex would pass on to anyone planning a similar venture is to make sure you have the pitch confirmed before you spend lots of time and money on a van and equipment! It all worked out well for The Good Stuff but there were a couple of sleepless nights.
The second thing to note is the importance of social media channels as sources of inspiration, advice and inspiration. Not just pre-launch but as a constant prompt and reminder of what is going on with similar businesses around the country.
And finally, if you are planning to take part in festivals and events, make sure that you choose sustainable packaging... and we may a team that can help you with that :-) simply get in touch!