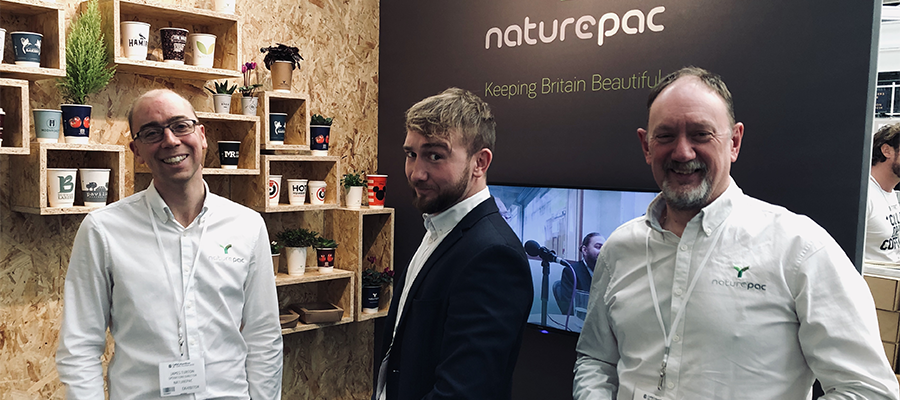 We've just got back from our first ever Caffe Culture show, and what a fantastic couple of days it was! The London Business Design Centre was the perfect venue and the show itself overflowed with a vibrant atmosphere on both days!
It was lovely to catch up with a few of our current customers (some of whom were also exhibiting at the show). It was also really interesting to meet so many new and like-minded people, passionate about making their businesses as clean as possible with regards their overall impact on the environment.

As you know, we stock a Compostable and sustainable alternative to almost every food-to-go packaging item, however, for this show... we concentrated on our Compostable coffee cups.

We know how important it is to our customers, to feel as though you're doing the right thing in deciding which packaging option is best for you. As a result of that, we spent most of the show trying to 'clear the muddy waters' which is all the mis-information out there about the differences between Recyclable, Degradable and Compostable products.

We have plenty of other blogs around these topics and so much more RE: the pros and cons of each option - we don't shy away. So click here to find our other blogs and news articles.
A massive thanks must go out to the team here at NaturePac, both at the show and back in the office. It takes a tremendous amount of work to produce and manage a stand at these big shows (especially when we build it ourselves - extra special thank you to Richard Butcher!), It really was a massive team effort!

We will be back at Caffe Culture in 2020, so we look forward to seeing you there!


Please do take a look at our other news articles, and join the discussion across social media via #KeepingBritainBeautiful