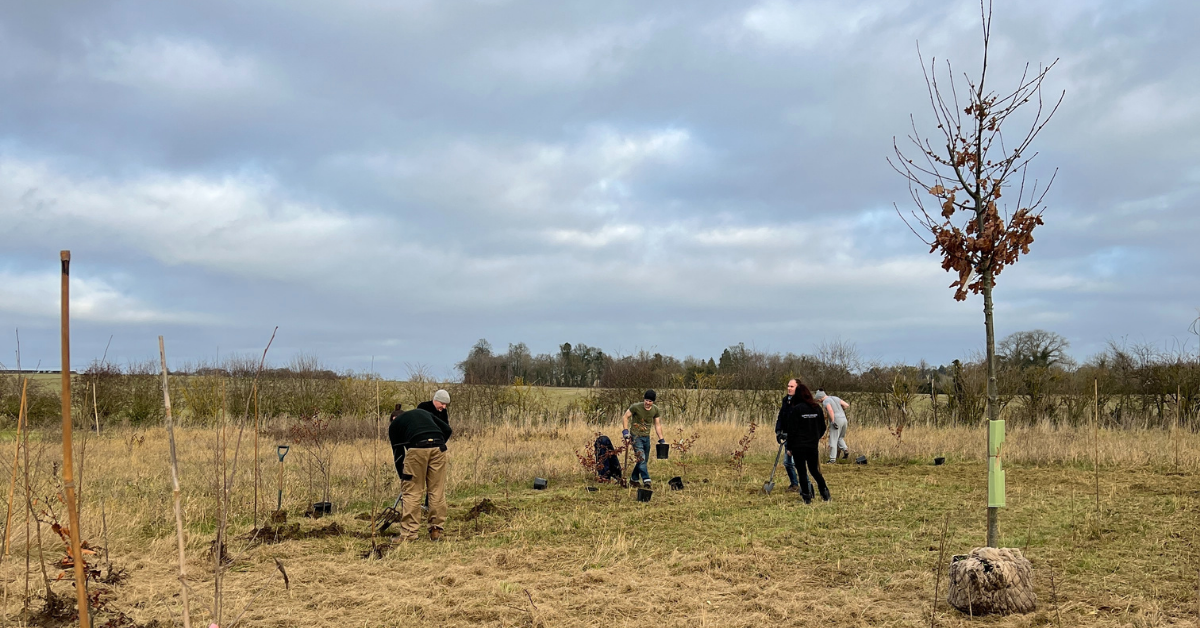 "Community garden week 2022 celebrates the amazing community and school gardens across the UK and will take place from 04 April – 10th April this year.
Community gardens and school gardens come in a myriad of shapes, sizes and styles. They all have a different heart and a unique mission. What each one of them has in common though, is the ability to bring people together using the power of nature to inspire, heal and make people happy."
We couldn't agree more. The key thing which motivates the NaturePac team is nature. We love it, whether it's the mountains of Scotland, the big skies of the East Anglian fens or growing herbs in the garden at home. So, it is no surprise that we are big supporters of nature in the community and community gardens in particular.
We are super proud of our new tree planting campaign where we commit to planting one tree for every case sold of our 'Woodland' fully recyclable cups. So far we have planted 500 trees, with 110 more due to be planted next autumn; all of the trees planted will benefit local communities and make nature a little bit more accessible, enabling more people, and wildlife, to benefit from the inspiring and healing properties of the natural world
And that got us thinking: whilst we love nature and spending time soaking up whatever the British weather has to throw at us, we wondered if there is actually any tangible benefit to spending time outside. So, we hit Google and were amazed at what we found.
The first thing that we came across was a report from some scientists in Japan who set out to prove whether spending time in nature has a positive effect on human health.
They started by investigating a practice called shinrin-yoku, or Forest Bathing, essentially strolling in a woodland.
One researcher at Chiba University in Japan, found that people who spent 40 minutes walking in a cedar forest had lower levels of the stress hormone cortisol, which is involved in blood pressure and immune-system function, compared with when they spent 40 minutes walking in a lab. "Spending time in the forest induces a state of physiologic relaxation."
And there's more: Dr. Qing Li, a professor at the Nippon Medical School in Tokyo, found that trees and plants emit aromatic compounds called phytoncides that, when inhaled, can spur healthy biological changes in a manner similar to aromatherapy, which has also been studied for its therapeutic benefits. In his studies, Li has shown that when people walk through or stay overnight in forests, they often exhibit changes in the blood that are associated with protection against cancer, better immunity, and lower blood pressure.
In fact, the more we read the more we learned and it seems that the benefits of spending time in nature, whether that's the local park, the mountains of Snowdonia or an allotment, can play a significant role in improving both mental and physical health.
And so, as a brand of sustainable packaging that believes that it has a responsibility to protect nature and to Keep Britain Beautiful, we will redouble our efforts to help food to go businesses throughout the UK have access to the most eco-friendly disposable packaging. In doing this we hope that we can help preserve the beauty and power of the natural world for all of us. Oh, and we might plant some more trees. We like the sound of forest bathing.
You can find out more about forest bathing in the UK on the Forestry England website.