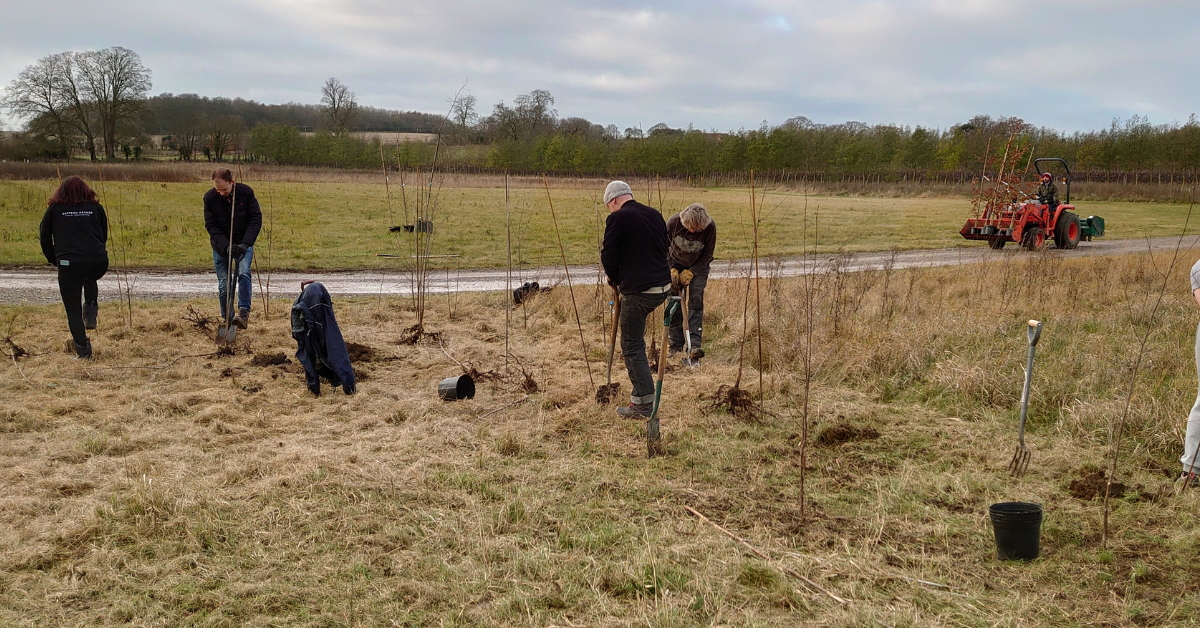 We have planted 725 trees and counting… 
At NaturePac, we have been overwhelmed with the response to the tree planting initiative and thank all our customers who purchased or pre-ordered a case of our fully recyclable cups to contribute to a worthy cause. Throughout December, Richard, Kate and Nick have been busy planting the trees as a result of the Cups For Trees campaign.  
You can find out more about our partnership with the charity Creating Nature's Corridors in our previous blog.
The first stop was Hemingford School, Richard and Kate visited the school to plant trees with a group of volunteers from years 2-6. Danielle Jones, Deputy Headteacher said "It is with gratitude and appreciation we accepted the kind donation of trees from NaturePac as part of National Tree Week 2021. It has become increasingly apparent that our young people are passionate and invested in environmental issues and have a motivation to do their bit, to improve their outdoor spaces.  
Last week, a group of children from across the school enthusiastically took part in the planting of a selection of fruit trees with the support of Richard and Kate from NaturePac and our dedicated local community gardeners. On discussion, the Year 5/6 children have said "it was fun taking part and it is so important we plant more trees in our local area to help reduce the amount of carbon dioxide in the environment from the local vehicles."  
This has been fantastic to hear. Despite the chilly weather, we were so delighted to see how enthused the pupils were about environmental issues. It's made us at NaturePac feel positive for the future. However, in hindsight, we may pick a warmer month to plant next time! 
Danielle Jones continued "On behalf of the school, I would like to send a heartfelt thank you to NaturePac and the charity Creating Nature's Corridors for this generous donation. We look forward to seeing the children nurture the trees and seeing them grow." 
We didn't stop there, Nick and Richard visited Saffron Grange Vineyard to plant  300 Alder, Beech, Silver Birch and Oak trees. They were joined by Saffron Grange staff, Vhari from Creating Nature's Corridors, and a group of her volunteers. It has been great to see the campaign come together and work together to 'Keep Britain Beautiful'.