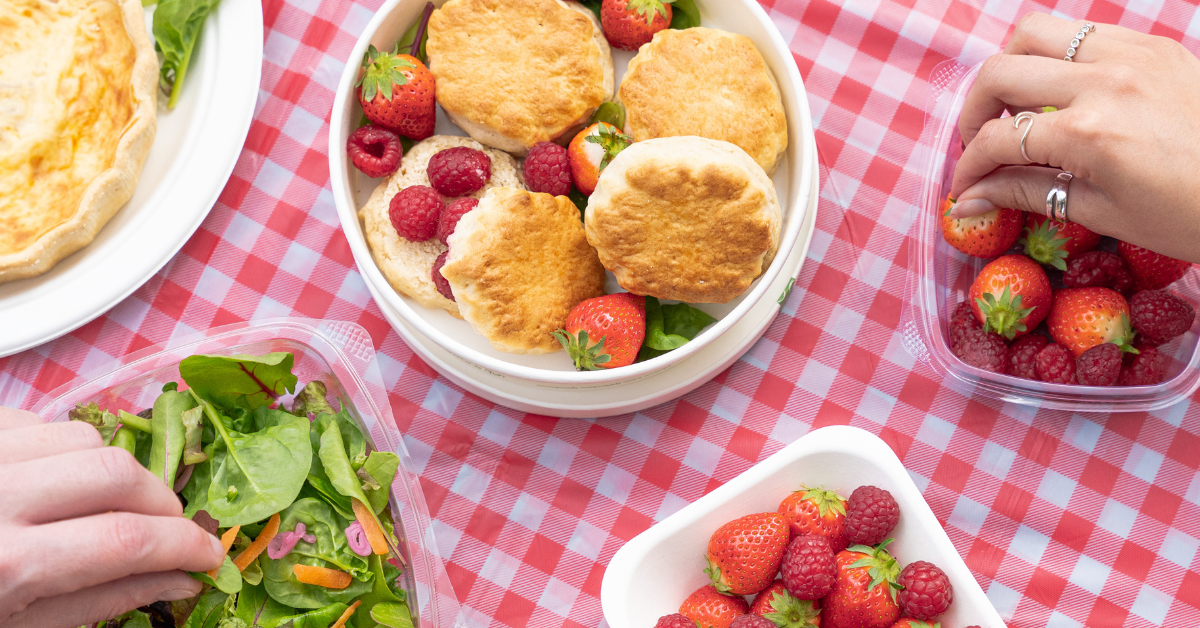 With Spring in the air and summer on the way, we have put together our guide to the top 5 sustainable options for the perfect takeaway afternoon tea packaging. We have selected eco-friendly packaging for you; all you must do is wow your customers with your sweet and savoury delights.
When considering afternoon tea packaging, our popular recyclable grazing boxes really tick all the 'boxes'. Constructed from kraft board and a PET window they can easily be recycled within normal paper waste streams. Available in 3 different sizes and with the option to add our robust dividing trays, it is the perfect way to present a myriad of classic afternoon tea favourites.  Our platter boxes for afternoon tea are an ideal packet-filler, whether it be sandwiches, savoury delights, or sweet treats.
These clear, compostable portion pots are ideal for dips, sauces and dressings at picnics and/or BBQs. They also work perfectly as an add-on to our platter boxes are great for takeaway strawberry jam and cream teas
Check our range of eco-friendly cake boxes. Discover the sustainable solutions for your butterfly cupcakes, lemon drizzle slices or street party puddings. If you offer classic high cream tea, retro or vegan we have you covered to provide the ultimate afternoon tea boxes for your customers this season. Don't forget to add a napkin or two for those loose crumbs.
We offer two variations of compostable cutlery in wooden and CPLA form. If its slice of chocolate cake, sultana scone and clotted cream or savouries to share, our cutlery is strong and durable and can also come individually wrapped to offer the perfect solution for teas to takeaway.
Whether it's breakfast, green or earl grey, your sustainable takeaway cup is integral to the delivery of your hot drinks. Our NaturePac Fully Recyclable Cups can be recycled in any paper recycling bin, either at home or out and about.
Stirrers are a great addition if you offer self-serve sugar and milk for your customers. Plus, our stirrers are 100% compostable as are our cup carriers, the perfect combination for afternoon tea takeaway boxes for orders on the go.
Take a look at our fantastic range of eco-friendly coffee cups and discover our outdoor eating collection for all your afternoon tea packaging. Looking for something customisable?  We also offer bespoke printing services for branded cups and carrier bags if you are looking to take your brand to the next level.
Get in touch with our team here.