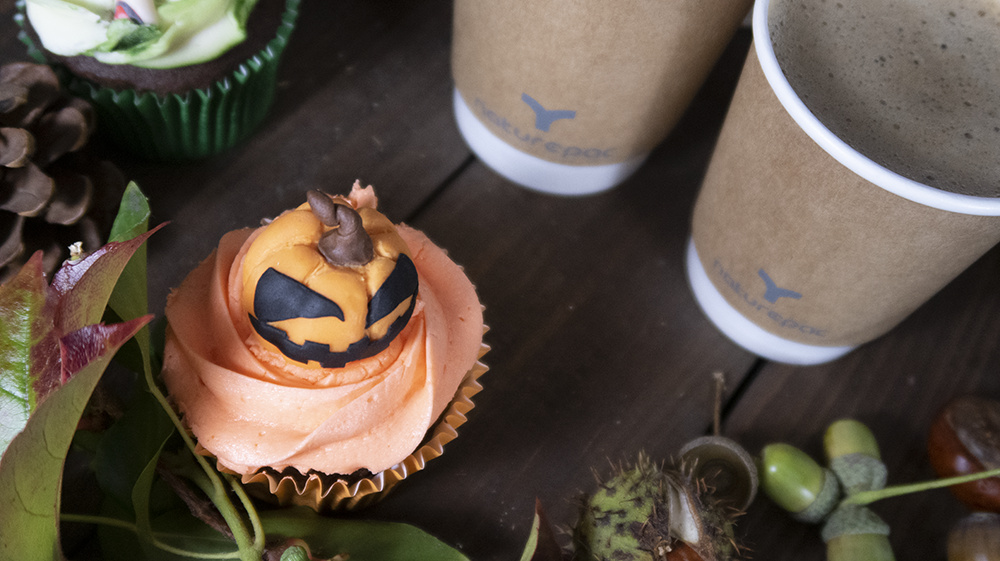 Everyone loves Halloween... The festive curtain raiser!! 
There are so many aspects to this holiday which excite us. So, in a year which has felt more like a trick than a treat, I think you'll agree, we need things like Halloween. 
This holiday can help raise all our spirits by living an annual event which allows us to smile and scream both at the same time... it's not all doom and gloom. There are still a bunch of ways to make October 31 feel special and just as festive as years before. So don't fret: Get a costume ready (because why not!) and let's make it the happiest Halloween possible.  
We have some ideas for you... 
Halloween Video Calls 
Under first lockdown restrictions back in March, we became inventive in our ways of interacting. Zoom and Skype calls proved to be our saviour when keeping in contact with our families and friends. We spiced things up a bit by throwing quizzes into the mix and some of us even went fancy dress for the occasion. Sounds like a great way to celebrate Halloween this year! 
Here are some Halloween quiz category ideas. 
Halloween Film

 

Round

 – 

there are some classic horror films (new and old) to work with here.

 "What did Jack Nicholson say when he smashed through the bathroom door with his axe during 

T

he Shining

?" You get the 

g

ist...

 
Halloween Celebrity 

Round

 –

 

you can 

do this in the form of 

still images

. Take photos of 

famous folk / 

celebrities dressed up 

in

 Halloween

 costumes

 and do you

r

 best to identify them.

 

Halloween Music Round

 –

 

Haunting music is everywhere

. 

Perhaps it's a soundtrack taken from a scary film... we all know that Ghostbusters theme

 song

, right?

 

Perhaps 

"

name th

e

 

Halloween 

number 1

"

 in the charts 

from years gone by

. 

 

A simple

 "

name

 th

is

 

song

" inspired

 audio

 round

.

 

Halloween History Round

 – Q. 

"

Which famous magician died on Halloween

?" 

A.

 

Harry Houdini. 

Q.

 

"What is the day after Halloween called?"

 

A.

 

All

 Saints Day

.

 

You'll find loads of these type of questions online.

 
Or how about playing a Murder Mystery over video call? You'd be surprised at how many spooky, heart racing games you can do this with. This article has some ideas. https://www.stylist.co.uk/life/virtual-murder-mystery-tips-hosting-zoom-video-themes-ideas/386258s 
Or go with a classic board game and play Cluedo over video call? To adapt Cluedo to remote play, you just need one person to have the actual board game. Take turns like normal, and the person with the game will move everyone's pieces across the board and perform the initial setup. Easy peasy. 
Halloween In A Bubble 
If you are still allowed to meet with family and friends in a restricted bubble, then we have some further ideas for you. So batten down the hatches and lock those doors. Turn down the lights and let's set the atmosphere for a home horror show. 
Board Games – 

we mentioned Cluedo 

above,

 but 

som

e 

board games 

simply cannot work remotely. Check out this list of

 ideas for 12 of the best horror board 

games

.

 

https://www.dicebreaker.com/themes/horror/best-games/best-horror-board-games-for-halloween

 

Prepare a Halloween Dinner - 

T

he only thing scary about trying a new recipe is not knowing where to start. Jack-

O'Lantern

 stuffed peppers 

can be

 filled with beef, rice

 or whatever you fancy

. Ca

rve the pepper much like a Pu

mp

kin

 and you're away. Rice can act as maggots. Sounds yummy doesn't it...............

 

Homemade Treats - 

Z

ombie gingerbread men, perhaps

? Or 

Hallowe

e

n Monster Marshmallows

? 

This

 type of thing

 will certainly

 reduce the amount of packaging and wrappers you must bin or recycle. Plus, it's something fun for the kids to be involved with.

 

Scary Movie Marathon

 – Exactly what it says on the tin.

 

Halloween Games – 

The kids 

love

 the classics.

..

 Bobbing for 

A

pples or 

D

angling 

D

onut

 

E

ating 

R

ace. Frankenstein Bowling 

is 

a particular favourite of mine. 

Decorate some scary monster tin cans

, find a tennis ball and go bowling in your lounge. No need to bin them

 once you're done

 – save them for next year.

 

Get Crafty -

 To keep kids entertained, pick up some supplies to make themed crafts. 

Rather than cheap throwaway plastic decorations, why not invest in ones that you'll use for years to come or make your own out of recyclable materials. There are plenty of ideas on

line

 for easy-to-make decorations

. For example: 

egg boxes cut into a strip of three cups and then painted black with some googly

,

 white eyes on the middle cup

...

 make great hanging bats. Easy, fun and conscientious.

 

Dress Up – 

It simply wouldn't be Halloween unless we

 got dressed up now would it...

 which leads me nicely to the below.

 I have some ideas how we can limit waste 

and

 keep things

 as

 sustai

nable 

as possible

 with your outfits.

 
Sustainable Halloween Costumes 
Halloween is one of those nights whereby we may purchase something for a one-off occasion, only for it to be binned or stuffed in the wardrobe, collecting dust for years to come. I've got some ideas.... 
Use what you already own

 – 

Can we reuse old clothes, or reinvent an old costume?

 

Rent your costume

 – 

send it back and it can be used by another grateful recipient

.

 

Purchase from an ethical trader

 – 

visit

 online

 

traders like 

'

Etsi

'

 

where

 you can find something 

handmade

.

 

Swap old costumes with a friend

 – 

simple really, want something new, offer out your costume to a friend, or someone online who also wants something new.

 
Stick to non-toxic makeup – 

can we keep it organic

 and shop clean. Try 

'

Credo

'

 – a huge 'clean beauty' online shopping store

.

 

Use natural materials

 - 

T

his is

 one

 day of the year when you're supposed to be weird. 

W

rap 

hessian

 around yourself and pin a coffee mug to your head and be a cup of coffee

?

 

C

over yourself in flowers and suck on a 

dummy

 and

 be a "flower child." You could pile fruit on top of your head and wear a yellow 

dress and

 be a Chiquita banana

? Not the greatest suggestions, but you get the idea.

 

Second-hand

 stores –

 

if

 you

 are still able to get down the shops, 

the creative ideas we can conjure up from a 

second-hand

 store 

are

 great fun and often, the proceeds go to charitable 

causes

.

 
I think I've exhausted my creative thinking for one day so that's it from me... Halloween in 2020 may look a little bit like this! So let's embrace the creativity it will force upon us and do our best not to be wasteful along the way. 
If you ask me, Halloween become a little too easy anyway. 😉  
Have fun everyone!! 
Evolution Packaging.