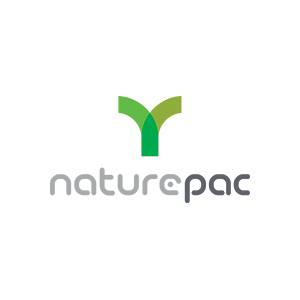 NaturePac was born from our family firm who used to specialise in plastic packaging. After 30 years in the industry we realised that our future was not in plastic packaging. As TV shows such as Blue planet have highlighted, plastic is extremely harmful to the environment, we only have one Earth and we need to look after it. We are extremely pleased with what NaturePac has achieved so far. The knowledge our staff have is second to none, amassed from moving from plastic to compostable alternatives. We have researched, tried, tested and used all of our products in order to offer our customers the best possible choice, without compromise.
Whilst NaturePac has gone from strength to strength with our products and our knowledge our logo and branding had been left behind. We thought it was about time we gave the NaturePac brand some TLC. We enlisted the help of Jo from Boyd & Partridge who not only helped us create a great brand identity, he also came up with a super new logo which we can be proud of.
The process was really enlightening, Jo spent a lot of time here at NaturePac, thrashing out ideas amongst all of the staff, helping us cement what was important to us and what NaturePac meant to us as a team and as a company as well as what it should mean to our customers and the environment. We concluded that NaturePac was more than just a business, it was a service, an educator and a vehicle for change and future development which revolves around doing our best for the environment and ultimately the world, there is after all only one.
So here it is in all its glory, our new logo! We hope you like it and that you can see, through our logo, what NaturePac and the environment means to us…..