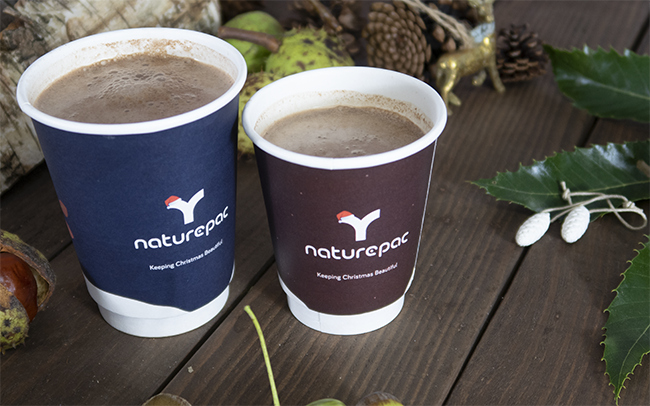 Feeling festive yet...?  
For all our current and prospective clients, Christmas offers a moment of opportunity to best promote your business and deliver your range under the wonderful lights and euphoria of the season. 
This year, Christmas presents an even bigger challenge as all businesses, both large and small, combat the reality of social restrictions. Here at Evolution Packaging, we hope to present some ideas which can help propel a business toward delivery and takeaway services. 
We understand the need to be agile during these times. For some of you, your trade will be wired towards in house, sit down custom and for others, takeaway and delivery services will already be your flagship. All that considered, we appreciate most will be tuning in for inspiration motivated by sustainable packaging. Afterall, the loyalists we work with are driven by a common goal of protecting our planet.  
The need for change in your business activity is perhaps one forced upon most of you, but with adaptation comes innovation which may result in a new and exciting arm to your trade. That said, with so many of us becoming reliant on packaging, it's vital we remind ourselves that we will be leaving more waste behind as a collective. If we all sing off the same hymn sheet (pun intended) we can make sure we do right by our businesses and our planet. 
Last week's blog focussed on our wonderful platter / grazing boxes - perfect for indulgent gift giving, whilst showcasing the plethora of your businesses goodies. But for day-to-day takeaway services, there are some key items which really suit the seasonal conditions and that's what we will touch upon today. 
Christmas Cups
Christmas in a cup. We're rolling out our Christmas Cups again this year. Cute, quaint and undeniably festive. Made from paper board with a PLA liner, these cups are fully compostable. You have the option of using CPLA lids or our home compostable bagasse lids. Perfect for a hot chocky, tea, coffee or even a fragrant mulled wine perhaps. Double walled, offering extra insulation and heat resistance. Personally, I go back and forth on which design I prefer out of the red and blue, but either way, the animated red breasted robins make for a warm and wholesome tone. These are readily available in both 8oz and 12oz. 
Paper Christmas Carrier Bags
Joe Bloggs and his takeaway burger and chips may not require a bag... but the moment someone wants a takeaway for their bubble group, or if you are delivering multiple meals then you'll need a tape handle carrier like this. So why not jazz it up Christmas style! If you are a business who wants something more than a plain bag but would rather avoid the outlay of personalising your bags, then these are a perfect cost-effective way to leave a lasting impression on your customers throughout Christmas. Being just paper, these bags can of course be both recycled AND composted. You never know, your customers may take it one step further and reuse them for presenting gifts on Christmas day. We offer these strikingly festive bags in two sizes as seen via the link. 
Bagasse Meal Boxes
The brilliance of these bagasse meal boxes is in their versatility. The functionality of these boxes are three-fold; perfect for over the counter serving, capable of withstanding freezing temperatures and suitable for a quick reheat in the oven or microwave - you won't find something more suited to this time of year. This fibrous bagasse material is derived from sugarcane, which allows it to be home composted. Simply chuck it in with your food waste and you've done your bit. Moulded to be leakproof so ideal for oily and wet foods, we also offer a two-compartment alternative if you are looking to keep contents separate.
Soup Pots / Deli Containers
Pure white... like a bed of snow (reaching a bit there, I know). These act as the perfect little snack pot for some olives, nuts or crisps. Ideal for a Winter mushroom soup or Christmas vegetable broth. Again, an ideal seasonal compliment, being their suitability for both hot and cold foods. This fully compostable white base comes with an aptly descriptive 'frosty CPLA lid' which will keep it nice and airtight, retaining the heat for you and preventing spillage. Personally, I would go for a vibrant chilli, butternut squash and carrot soup, with a slice of buttered wholemeal... but what would your customers clamber for? We offer these in 5 sizes ranging from 4oz – 16oz.
Buddha Bowls
Our good friend the Buddha. He may not have celebrated Christmas in a traditional sense, but this spiritual teacher sure liked a bowl. Typically, the Buddha would fill his bowl with whatever vegetarian food villagers would offer him. That said, I can't see him minding a small Sticky Toffee or Christmas Pudding finding its way in there. Again, made from bagasse, these bowls can be home composted and are suitable for hot or cold foods. You have the option of a bagasse lid, allowing for a completely home compostable marriage. Or we can offer an rPET lid, made from 100% post-consumer recyclable material. RPET is easily recyclable. So, once you're done, give it a quick rinse and pop the bowl in with food waste and the lid in your blue bin, and you are keeping up your end of the bargain. More details on the rPET lid can be found on our recently launched CyclaPac site which is tailored towards simple recycling.
So that's it for this week. 
As most of you reading have grasped now, these blogs are wired to inspire, innovate and reinforce the message we aim to transcend. All any of us can ever do is sustain our efforts towards being sustainable.... 
…. but let's make sure we have a Very Merry Christmas while we do it shall we. It goes without saying, you all deserve it in 2020. 
Evolution Packaging.