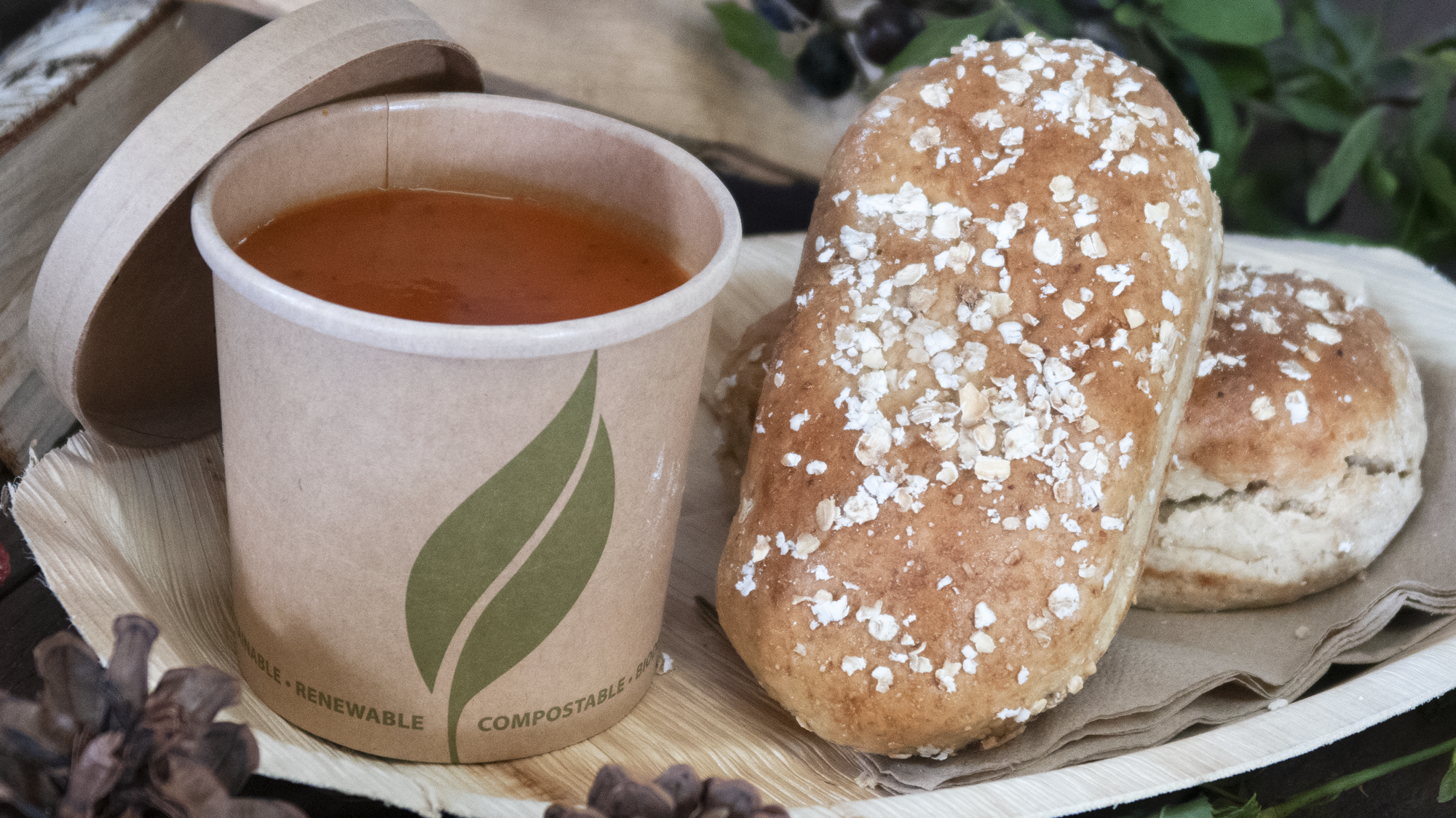 As the nights are drawing in and the morning frost becomes a part of our daily routine, we are all seeking simple ways to heat those winter bellies throughout the day. Whether you're travelling to/from work, or taking an evening stroll, your customers will want something quick... and something warm.

In the current climate, takeaways and disposables are becoming more and more popular out of necessity. With necessity, we all have a responsibility to ensure that the packaging we use is sustainable. So, it feels like a good time to introduce a range of eco-friendly products suitable for the hearty, Autumnal street-food that we all know and love.
Our focus this week is the top 5 options for winter warming street food.
Bagasse Meal Boxes
Introducing our brilliantly versatile and durable bagasse meal boxes. Suitable for dry, wet and oily foods, this meal box can withstand oven and microwavable conditions. Also suitable for freezing - this product is great for both pre-packing and on-the-go services, making it a widely popular product with street food vendors AND end-users alike. These are available in 500ml, 750ml, 800ml and 1000ml with the 800ml offering two separate compartments, making it ideal for multiple contents. Added to that, this product can be home composted - Win Win!! Take a look.

Brown Kraft Soup Containers
Perfect to warm those Winter bellies, these soup containers are strong and sturdy, offering a stylistic and elegant aesthetic. 100% compostable, these are built-up with brown kraft and lined with PLA, ensuring no leakage. These also work perfect for noodles, broths and (generally), any oily or liquid content. We offer 8oz, 12oz and 16oz for this all year-round popular product. That said, they really come into their own during Winter. Lids can also be found towards the bottom of the product page.

Open Kraft Food Trays
These perfectly simple open kraft trays offer an efficient solution for a variety of on-the-go food options. Made up from kraft board, the aqueous, water-based liner allows for the product to be both composted AND recycled (Look out for these trays in both our NaturePac and CyclaPac collections). Whether it's a few chips or tortilla's, a hot dog or some chicken wings... these presentable food trays do the trick. We offer the brown trays in 120x120x45mm, 115x220x45mm, 119x244x45mm and a white tray option in 178x84x51mm. Get picking!!
Greaseproof Paper Bags
An ideal on-the-go item, these double layered paper bags make for a suitable greaseproof solution. Whether it be a warm, sugary donut, a melt-in-your-mouth cheesy toasty, a hot sausage roll or a pasty... these are a must have item for those quick turnover market stools. The outer layer is just simple brown paper while the inner is greaseproof, helping to avoid sticky, greasy fingers along the way. These bags are available in two sizes with gussets; 175x50x200mm, 175x50x305mm. For more information, take a look.
Double Wall Compostable & Recyclable Cups
What's a cold Winters' evening without a coffee, a hot chocolate or mulled wine at your disposal! Take a look at our fantastically popular double wall, aqueous cup and bagasse lid. The water-based liner allows for the cup to be both composted AND recycled, whilst the bagasse lid can be home composted - a completely plastic FREE double team. The double wall aspect protects the consumer against the heat... whilst insulating the contents at the same time. We supply these cups in 8oz & 12oz and we can offer them bespoke with your artwork (from upwards of 1000 cups: Email; sales@epp-ltd.co.uk with any print enquiries). Take a look.

 
So, there we have it. As we approach the end of 2020, we will all be reflecting upon a time of total unpredictability. But with every challenge comes the need for resolution and we will forever strive to offer an unbiased voice in the face of adversity.

It's one challenge to adapt your business in these times – it's another thing to adapt AND do right by our planet. If you can do both, then you're doing all you can.

For more information on how to serve your Autumn & Winter food-to-go... please contact us anytime: sales@epp-ltd.co.uk or speak directly to one of our experts right now: 01480 309 870 - Good things come in Sustainable Packages.


Please take a look at our other news articles, and join the discussion across social media.