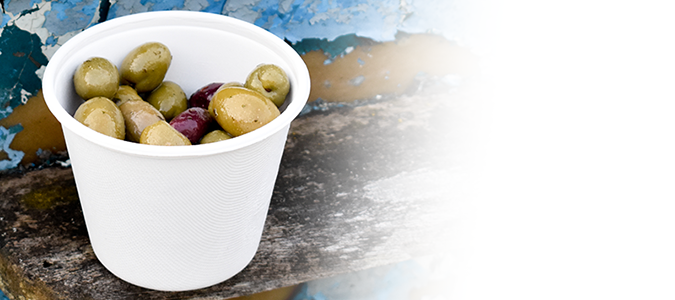 Over the past few months, the food service industry has changed significantly. Unfortunately, we've seen some of our partners close their doors altogether, while others have diversified (very impressively) to keep their business alive and continue serving the local community.
Before this unprecedented lockdown, food service providers and hosts were mostly running social gathering hotspots for friends and families to come together around good food and fresh hot drinks. This lockdown has shown us just how important these places are to the community as a whole, but also on an individual basis too.

As we start to see some easing of the lockdown restrictions and welcome the ability to meet our friends and family in outdoor spaces (in some capacity) once again, we believe the food-to-go sector will quickly return to it's rightful position as being a vital focal point in summertime culture. We foresee food services operating as takeaways and deliveries for their customers to enjoy in the park with friends, or to simply click, collect and take home as a much needed treat for the household.

A lot of small and medium sized food services have probably never offered a takeaway option at all... or if they have, it might have only been for a small part of their range. Having received a high volume of enquiries over the last week or so (asking for the best possible packaging ideas for a changeable range), we thought it best to share our guide, which is designed to help anyone in a slightly unfamiliar situation.

Below you'll find some examples of different types of food-to-go and what we believe is the best Sustainable & Compostable packaging to serve these items in. By no means is this an exhaustive list, so if you do have any questions, please feel free to contact us directly.

For more information on each of these suggestions, please follow the links to our developing product pages.


Fresh Hot Drinks
For speed and ease of use, we recommend our Double Wall Cups. The double wall provides a nice insulation from the heat of the beverage. All our double wall cups are Compostable, we also have the perfect Compostable lid available too.
Featured collection
100% Compostable Hot Cups and Lids.
Sweet & Spicy Salads
We have two main options for salads. I personally really like the Brown Kraft Salad Box with Window. As with all of our products, it is Compostable… but in addition to that, it also instantly looks (and feels) like an eco-friendly packaging choice. It's a quality option and can be used to show-off your summer salads to the customer. These Kraft Salad Boxes can be clip-closed, or you can choose to use a Compostable label to help make them 'tamper proof'.
The other option (if you need a larger selection of sizes) is our Clear PLA-Hinged Salad Boxes. These are also Compostable, but they're completely clear. These are great for well-dressed salads and really hold the freshness in with their tightly sealable lids.
Hearty Burgers, Fish & Chips, Jacket Potatoes to go...
For this type of hot food, we'd recommend the Bagasse Clamshell Takeaway Containers. They're made from agricultural waste material and so they're fully sustainable and easily Compostable. They also offer some insulating properties and are sturdy enough for your customers to eat on the move.


Hot meals to go
For hot meals to eat on the go, we recommend our Meal Pails. These perfect pails are available in either white or brown kraft board, or in the bagasse material mentioned above. Both types have an integrated lid… and both are home Compostable. The Bagasse version offers a little more insulation and can be put in the oven or microwave confidently, if your customer decides to take it home and enjoy it again a bit later.
Cakes & Traybakes
There are a few options here, depending on the type of cake you're serving and when your customer is going to enjoy it. We have our quick-serve Cake Boxes, which are ideal for the customer to take home or on the road to a park, or even to give/send as a gift.

If your guest/customer is going to enjoy some cakes right away, we recommend either the Greaseproof Paper Bags, or the Meal Pails mentioned above. This all depends how big your cake slices are... and how messy/delicious they are to eat! If you like to use lots of toppings -- and if the customer may want to use a fork -- we certainly recommend the Meal Pail.


Grazing Boxes and Afternoon Teas
Over the last month we have seen an impressive increase in the use of grazing boxes (of all shapes and sizes) and a heightened interest in afternoon tea. The best option here is our Food Platter Boxes. They're sturdy, perfect for delivery, completely compostable, and you can even get internal dividers to keep the contents from moving around too much.
 
Soups
If you offer takeaway drinks, you could always offer soup in your takeaway cups too, especially if you're tight on storage space for your packaging. However, if you would like to offer your soup in a more substantial container, which your customer can travel with for a bit, then we recommend our Brown Kraft Soup Containers with the vented lid.
We stock many, MANY more options for a whole variety of takeaway items and street food. Please feel free to browse our new website and if you're still unsure of anything, please do contact us directly or schedule a video call for a free consultation.  

I hope this has helped in some way. We wish all of our food service friends and partners the very best of luck over the coming months and remember… not only are you offering your customers quality food-to-go, but you're also giving them a glimpse of normality and a much needed treat!


Stay alert, stay safe, shop local. We can do this.
James Turton
Operations Director
 For more information or advice on what type of packaging to use with your food-to-go, please feel free to contact us anytime: sales@epp-ltd.co.uk or speak directly to one of our experts right now: 01480 309 870 

Please take a look at our other news articles, and join the discussion across social media via #KeepingBritainBeautiful